About Jan Kolenbrander
Growing up in the central Eastern part of The Netherlands, just a stone's throw away from Germany, where both Farming and Service Industries, in particular the Machining Industries, abound: Jan benefited from both.
Living and growing up in a typical Dutch farming area, steeped in cultural history, with a landscape dotted with rye/wheat-fields, forests, lakes, streams, channels, paddocks surrounded with wood-rows and hedges, the occasional windmill and the small villages. An area rich with game, were the tradition of hunting was still passed on from generation to generation. No doubt, growing up in this environment sparked his interest in guns and the outdoors at a very young age. His teens saw him apprenticing with one of the last remaining local 'old school' gunsmiths of the area.
After graduating from High School, marked by a couple of short interruptions that involved another trade, Jan immigrated to New Zealand. He returned for mandatory draft in The Netherlands and served a Armourer/Corporal Tank-driver in the Netherlands Army. After the Army, and still in The Netherlands, Jan quickly managed to pick-up where he had left off. He signed up for another apprenticeship to satisfy his love for metal-working and guns, which led him back to formal Metal-Machining and Education. Training back in those days was done thoroughly. Metal work training invariable commenced on raw pieces of metal with heck-saw and file! Learning the basic metal skills from the ground floor by hand, shaping solid rough pieces of steel into fine true and squared blocks in the shortest time possible, then - after grading - re-shaping them by hand into useable jigs, fixtures and hand-tooling in order to become the true Metal Artisan. He then followed up with continued schooling in general Machining, Tool-Making, Welding, and finally complex CNC Machining training.
Being recognized for his quality work, it opened the door to years of Research & Development and prototype building: Complex CNC-Milling of experimental Fuel-Injection and Turbo systems for the major German Car manufacturers (Mercedes, BMW, Porsche, Audi and VW). Unknown to most outsiders, these firms routinely used The Netherlands high-end 'state of the art' CNC-Machining Parks for their R&D. Work involving the production of experimental ultra-precision 'Pre-production' car-components/parts.
As time went on, Jan longed to set-up shop for himself as a fully qualified Gunmaker. He left his CNC-Machining job and followed up with factory training at Blaser/Sig-Sauer/Mauser. After completion and his return to The Netherlands, the 'restricted' and gradually negative Netherlands culture towards hunting proved to be too much pressured and restrictive for Jan. He and his wife opted to remigrate back to New Zealand. Once back in NZ, he returned into his former trades and worked successfully as a Fitter-Turner, Machinist, Toolmaker, Welder, and Millwright, while most of his afterhours and weekends were spent working in his own home workshop as a self-employed gunmaker.
In 1996, Jan had the opportunity to move his family to Colorado/USA, to obtain his North American certification at the Colorado Gunsmithing Academy of Lamar ('former' C.G.A.L.) from which he successfully graduated in 1997 with 'top-marks'.
In 2007, Jan accepted a job offer from Martini Gunmakers Ltd. and moved his family from New Zealand to the East Kootenays region of the Canadian Rockies in BC. He worked here for over 4 years, before becoming self-employed once again. British Columbia, a province where hunting is still a highly recognized endeavor, still deeply embraces gunsmithing as an essential, appreciated, and in-demand trade.
Call Jan Today! +1 (250) 919 8529 or 426 3829
(Mountain Time)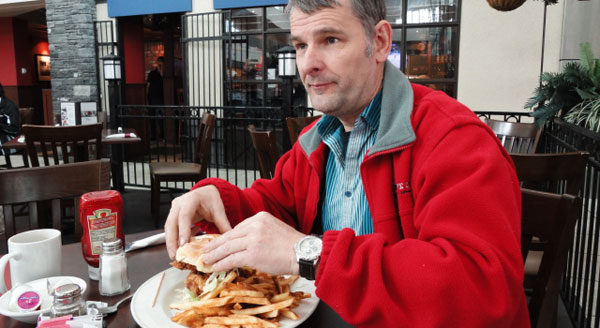 Jan's favorite pastime... LOL